About CBD
Nugget CBD and Hemp Store
What is CBD?
CBD is one of the many cannabinoids that are extracted out of the hemp plant. A cannabinoid is a compound found in the hemp plant. The hemp plant produces over 100 different naturally occurring chemical compounds; this includes cannabinoids and terpenes. Cannabidiol (CBD) is one of the most common, well known, and researched natural compounds extracted from the hemp/cannabis plant. Once CBD is extracted it can be made into a multitude of different products designed to aid in its application.  
What can CBD do for you?
This extract is used for multiple potential health & wellness benefits from dulling receptors to giving support where your body naturally wants to be, in homeostasis. The anti-inflammatory properties have been confirmed and new research of anxiety and general mood boost is happening all the time. Many products have been designed to help get where you desire the CBD to be.   
Is CBD marijuana?
CBD is primarily produced in the hemp plant that is a cousin to the marijuana plant. CBD is the second most well-known compound in the hemp plant, accounting for 40% of its make up. Marijuana and hemp are both cannabis plants. The most well-known cannabinoid from marijuana plant is tetrahydrocannabinol (THC).
Will CBD get you high?
Unlike the Cannabinoid THC, CBD is nonpsychoactive, so it won't create a psychoactive effect (leaving the body feeling intoxicated).
All CBD products are not formulated the same. On our website, we aim to make this as clear as possible with the three Classifications/Forms of CBD. We feel strongly it is up to you what type of CBD product you decide to use and we give information to help you decide what is best for you.
The three classifications are defined below in more detail. A CBD isolate only has the CBD cannabinoid from the hemp plant. The other two focus comes from what is referred to as "The Entourage Effect " meaning you are gaining all the potential benefits from the hemp plant at once.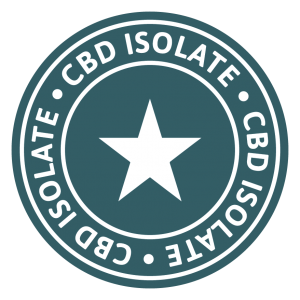 Isolates
This is the purest and raw form of the cannabinoid cannabidiol (CBD). With no other presence of other compounds that hemp plant has present. Primarily separated through a CO2 extraction process from other cannabinoids, fatty acids, and terpenes.  This 99.9% CBD compound is then added to all products that are labeled as an isolate.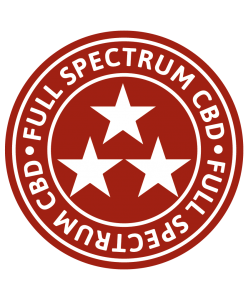 Full-spectrum
Will contain more than one cannabinoid (CBD, CBG, CBN, CBDa, etc) from the hemp plant including THC. Full-spectrum has the presence of everything the hemp plant has to offer including; cannabinoids, fatty acids, vitamins, minerals, plant proteins, flavonoids, and terpenes. With the combination of all the compounds introduced into the body at once you get what is known as the " Entourage Effect".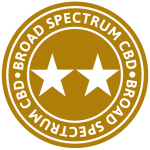 Broad-spectrum
Will contain more than one cannabinoid (CBD, CBG, CBN, CBDa, etc) from the hemp plant without THC. Broad-spectrum has the presence of everything the hemp plant has to offer including; cannabinoids, fatty acids, vitamins, minerals, plant proteins, flavonoids, and terpenes. With the combination of all the compounds introduced into the body at once you get what is known as the " Entourage Effect". 
Entourage effect – The theory that the compounds found in cannabis work more effectively when they stay together.
How does CBD work?
The Endocannabinoid System in our bodies is comprised of receptors and messengers that regulate the way our bodies communicate with the brain. CBD works by affecting our Endocannabinoid system (ECS). Our ECS is thought to affect and regulate; mood, motor control, sleep, appetite, immune function, pain, pleasure, reproduction & fertility, memory, and body temperature. Which includes our CB1 and CB2 receptors within. These receptors are believed to be some of the most widespread receptors in the entire body. This is why CBD is known for its all-encompassing healing powers and a multitude of potential health benefits.
Cb1 receptors are concentrated in the brain and central nervous system, a system in the body that maintains core functions such as motor activity, pain perception, stress response, and memory.
Cb2 receptors are distributed throughout the peripheral organs in the body serving as core components in the immune system, muscle system, and cardiovascular system.
There are teams out there that are designing CBD products with nano technology.
Nano tech or nano infused CBD allows the cannabinoid to move into the blood stream much quicker than normal. It also allows the CBD to become water soluble, so it base in a tincture would be water vs an oil base. This a allows for a fully infused drink or in edible form raises the bioavailablity from 20-50% up to 90%.
Pets and CBD
One of the best things about CBD is that we can share this with our pets. That right because all mammals have an endocannabinoid system within us. We all try and put ourselves in our pet's place and try and imagine what they are going through especially if we sense that they are going through discomfort. CBD will have the same effects that it has on you and me. If your cat is going through so much anxiety that they never come out from under the bed, YIKES! We all want to give our loved ones the best life possible and the potential of CBD making a difference is enough to try it out, for most of  us. The potential benefits are so wide-ranging it's hard to ignore. That if you could help calm your aggressive dog from jumping out of his skin and nipping at everyone walks near your home or help your old dog want to eat again. There are possibilities and teams all over-designing the right products to do so.
This being said, it is important to read the labels of the product and to have a clear understanding of the serving size recommended.
There are many opinions out there on CBD, in general, and unfortunately with the FDA being in the grey zone that they are that is all there can be at this point in time.
CBD DELIVERY METHODS 
 CBD capsules 
Perfect for on the go or easy to remember. As part of your daily routine CBD capsules are an easy way to gain from the benefits of the cannabinoid and terpenes.
CBD Oils/Tinctures 
CBD Oil is the most popular and well-known form of CBD. CBD Oil is also the most versatile form CBD comes in. A common practice to consume the cannabinoid is to place a serving under your tongue for 30 – 60 seconds. This allows your glands to absorb and enter the bloodstream faster. You can also apply the oil topically to soothe a targeted spot on your body, by either mixing it with your favorite moisturizer or massage the CBD oil tincture directly into the skin. Blending the oil into a health-conscious smoothie or as a dressing on your salad are also ways to ingest CBD.
Cats with oil
You can try and administer drops orally if your cat permits it. This can be difficult to perform on a daily task to get an accurate serving and to keep it consistent. You can place the proper serving inside the cat's ear and gently massage it into the inside of the ear.
CBD Topicals
CBD Lotions and Oils work best for targeting spots in need of attention and relief from inflammation. The skin absorbs CBD so that it can interact with cannabinoid receptors nearby benefiting the skin or inflamed muscle. Rub CBD lotion directly onto the skin for pain, rashes, or other irritations.
CBD Edibles
A CBD edible is a great alternative to those looking for longer-lasting relief but, want to mask the CBD flavor. While it takes a while for CBD edibles to take effect (between 30 minutes to two hours), the result is a relief that lasts longer than inhalation. This means that the CBD is released slowly over long periods of time as food is digested. CBD edibles are great for a long-lasting experience that can last for as long as two or four hours, much longer than if inhaled.